I thought I might combine these two months together for this wrap-up. I didn't read many books or watch many movies in each month. However, I apparently read lots of four stars books these past two months. Finally, I'm caught up with these wrap-ups! Woo!
*All descriptions for books taken from Goodreads and all descriptions for movies taken from IMDb. All pictures link to their respective Goodreads or IMDb pages.
Anya's Ghost – Vera Brosgol
Genre – Young Adult/Graphic Novel
My Rating – ★★★★
Anya could really use a friend. But her new BFF isn't kidding about the "Forever" part.
Of all the things Anya expected to find at the bottom of an old well, a new friend was not one of them. Especially not a new friend who's been dead for a century.
Falling down a well is bad enough, but Anya's normal life might actually be worse. She's embarrassed by her family, self-conscious about her body, and she's pretty much given up on fitting in at school. A new friend—even a ghost—is just what she needs.
Or so she thinks. Spooky, sardonic, and secretly sincere, Anya's Ghost is a wonderfully entertaining debut from author/artist Vera Brosgol.
Review: I went into Anya's Ghost without fully reading the description, and I found that I enjoyed it a lot more than I probably would have had I read it. It was nice to go in kind of blind. The story is surprisingly dark and a lot different than I expected. I really liked the ending because I didn't see it coming at all. Aside from the story, I thought the characters were very well-written and realistic. None of them were 100% likeable and to me that just seems more accurate. The graphic style is fun and simplistic. It's not as detailed as a lot of graphic novels but it's perfect for this story. If you're into graphic novels I would definitely recommend this book.
The Surprise Party – R. L. Stine
Genre – Young Adult/Horror
My Rating – ★★★★
It's been a year since Evan died in the Fear Street woods. A year since Ellen moved away, and "the gang" split up. Meg Dalton felt as if she'd lost her best friends. Everyone changed. Even her boyfriend Tony was acting moody, strange. But when she heard that Ellen was returning for a visit, Meg had the answer: she'd bring them all together again with a surprise party for Ellen!
That's when the terror began…the phone calls…the threats…the bizarre acts of violence. "Cancel the party—or else," the whispered voice on the phone told her. Meg was scared, and with good reason. Whoever wanted the party stopped woud try anything—even murder! But why? The dark Fear Street woods held the answer…if Meg dared to discover the truth!
Review: The Surprise Party is very similar to other books in this genre by R. L. Stine. It has all of his usual mystery aspects and predictability. The suspects are all typical and very obvious. Meg is too trusting of everyone and that was a bit frustrating for me, but the book was fun to read and fast paced. Of course, as usual, the ending was a bit crazy and out there. Up until the end of the story, everything made a lot of sense though. Stine's books are always entertaining to read, and I would recommend them if you're already a fan of his.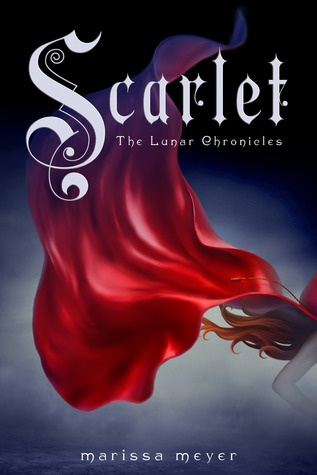 Scarlet – Marissa Meyer
Genre – Young Adult/Fantasy
My Rating – ★★★★
Cinder, the cyborg mechanic, returns in the second thrilling installment of the bestselling Lunar Chronicles. She's trying to break out of prison–even though if she succeeds, she'll be the Commonwealth's most wanted fugitive. Halfway around the world, Scarlet Benoit's grandmother is missing. It turns out there are many things Scarlet doesn't know about her grandmother or the grave danger she has lived in her whole life. When Scarlet encounters Wolf, a street fighter who may have information as to her grandmother's whereabouts, she is loath to trust this stranger, but is inexplicably drawn to him, and he to her. As Scarlet and Wolf unravel one mystery, they encounter another when they meet Cinder. Now, all of them must stay one step ahead of the vicious Lunar Queen Levana, who will do anything for the handsome Prince Kai to become her husband, her king, her prisoner.
Review: Scarlet is a fun read. A bit predictable, but fun all the same. The plot is very interesting and keeps you entertained. I really liked the world but wish there was more world building. You just don't get to see enough about how everything operates. On the other hand, the characters are what really drive the story. I enjoyed seeing Cinder's point of view again and was glad to see other characters had returned as well. I didn't like Scarlet as much as Cinder, but she isn't a terrible character. She just has a few traits that irked me. Out of all the characters though, Thorne is by far my favorite. The Lunar Chronicles is a series that you should absolutely check out because all the books are fun, easy, and provide a nice change of pace.
*As an added bonus for Scarlet, I've been provided with an audio sample to share with you from Macmillan Audio. Click here to listen to the first chapter of the audiobook.
Spirits of the Noh – Thomas Randall
Genre – Young Adult/Horror
My Rating – ★★★★½
Kara Harper is finally starting to fit in at her boarding school in Japan-after all, nothing bonds you with your classmates like having an ancient demon put a curse on you. Hoping life can go back to normal now that the demon has been put to rest, Kara joins her friends Sakura and Miho in putting on a play for the Noh drama club. It's the story of the Hannya, a snake demon who inhabits the body of a beautiful woman. When a few members of the Noh club go missing, Kara fears that the real Hannya has been awakened by the curse. Then Miho is abducted, and Kara must find her before the Hannya destroys her. But the demon is wily, and may be hidden in the last place any of them would think to look . . . .
Review: I'm loving this series. Spirits of Noh is a nice addition to the first book and doesn't just provide a bridge to the third book. It's as good as Dreams of the Dead and I am really looking forward to the third book now. The characters continue to develop and the plot remains intriguing. I still love the setting, and the descriptions constantly make me want to go to Japan. The only negative I have about this book is that Kara seems to have regressed a little. How she feels about her dad's relationship has changed from the first book. Other than that the book is very fun and enjoyable. The book is classified as young adult horror and lives up to the genre while not being overly scary. I think everyone that enjoys young adult should give this trilogy a chance.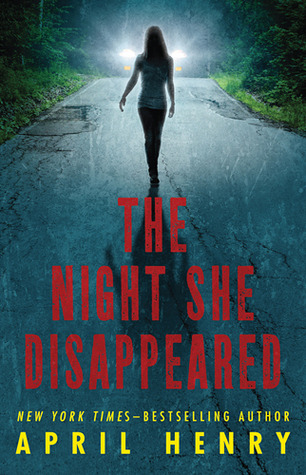 The Night She Disappeared – April Henry
Genre – Young Adult/Mystery
My Rating – ★★★★
Gabie drives a Mini Cooper. She also works part time as a delivery girl at Pete's Pizza. One night, Kayla—another delivery girl—goes missing. To her horror, Gabie learns that the supposed kidnapper had asked if the girl in the Mini Cooper was working that night. Gabie can't move beyond the fact that Kayla's fate was really meant for her, and she becomes obsessed with finding Kayla. She teams up with Drew, who also works at Pete's. Together, they set out to prove that Kayla isn't dead—and to find her before she is.
Review: The Night She Disappeared is really short and fast paced. There aren't that many details and you don't really get to know the characters, but the story is pretty interesting. The story is told through four different perspectives, one of which belongs to the killer. This allows the reader to know more than the characters and makes everything more suspenseful. As the book begins wrapping up things get really exciting. It was a lot more intense than I expected. If you're in the mood for a quick mystery, this is the book for you.
---
Blazing Saddles
Rating – R
My Rating – ★★★★
To ruin a western town, a corrupt political boss appoints a black sheriff, who promptly becomes his most formidable adversary.
Review: Blazing Saddles was surprisingly funny. I know Mel Brooks is well-known for his comedy, but I was just worried this one might not be as good as some of the others like Young Frankenstein and Robin Hood: Men in Tights. Those are two of my favorite movies. The plot is a little silly but that's to be expected from a satire like this.  It's not a movie that will stick in my mind forever, but it's definitely enjoyable. If you're a fan of comedies, this is certainly one to check out.
The Brothers Grimm
Rating – PG-13
My Rating – ★★★★
Will and Jake Grimm are traveling con-artists who encounter a genuine fairy-tale curse which requires true courage instead of their usual bogus exorcisms.
Review: The Brothers Grimm is a fun movie, but it's very silly. It's entertaining, and the acting is perfect for this type of movie. The fact that Will and Jake are con-artists really makes the story go in a more interesting direction. It wasn't as predictable as I thought it would be, and I really enjoyed it. There were a lot of scenes that caught me off guard, and I found myself laughing quite often. It's hard to recommend this to a certain group of people, but if you read the description and think it sounds interesting, you'll probably really enjoy it.
Saving Private Ryan
Rating – R
My Rating – ★★★★★
Following the Normandy Landings, a group of U.S. soldiers go behind enemy lines to retrieve a paratrooper whose brothers have been killed in action.
Review: Saving Private Ryan is such a fantastic movie. I always avoided this movie because the opening scenes are so graphic, but I'm glad I finally watched it. The acting is great, but Tom Hanks stands out as my favorite. It's easy to get attached to all of the characters and genuinely concerned any time they're in danger. It's very unpredictable and just a beautiful story overall. If you haven't seen it then you really need to. This is a movie that can be enjoyed by everyone and not just fans of war movies.