The June Wrap-Up is finally here! I'm getting through these slowly but surely. Hopefully by the end of the year, I'll be caught up with everything . . . or at least with the summer wrap-ups. 😀
*All descriptions for books taken from Goodreads and all descriptions for movies taken from IMDb.
Monstrous Beauty – Elizabeth Fama
Genre – Young Adult/Fantasy
My Rating – ★★★★★
Fierce, seductive mermaid Syrenka falls in love with Ezra, a young naturalist. When she abandons her life underwater for a chance at happiness on land, she is unaware that this decision comes with horrific and deadly consequences.
Almost one hundred forty years later, seventeen-year-old Hester meets a mysterious stranger named Ezra and feels overwhelmingly, inexplicably drawn to him. For generations, love has resulted in death for the women in her family. Is it an undiagnosed genetic defect . . . or a curse? With Ezra's help, Hester investigates her family's strange, sad history. The answers she seeks are waiting in the graveyard, the crypt, and at the bottom of the ocean—but powerful forces will do anything to keep her from uncovering her connection to Syrenka and to the tragedy of so long ago.
Review: Monstrous Beauty is a beautifully written book. I didn't know what to expect when I first started reading since it was the first mermaid story I've read. However, I was pleasantly surprised. Even though this concept has been done before, the author did a wonderful job with it. Everything has a purpose and nothing feels forced. It's darker than you might expect from a mermaid book but not in a bad way. The characters are unique and feel like they belong in their respective time periods. It's easy to like the characters, and at times, the story is very emotional. I couldn't stop reading from the time I started, and I had to know what happened next. If you like romance stories, but aren't a fan of the typical cliches, then I would suggest giving this book a try. This is probably going to be a book I remember for a long time.
Pivot Point – Kasie West
Genre – Young Adult/Fantasy
My Rating – ★★★★★
Knowing the outcome doesn't always make a choice easier . . .
Addison Coleman's life is one big "What if?" As a Searcher, whenever Addie is faced with a choice, she can look into the future and see both outcomes. It's the ultimate insurance plan against disaster. Or so she thought. When Addie's parents ambush her with the news of their divorce, she has to pick who she wants to live with—her father, who is leaving the paranormal compound to live among the "Norms," or her mother, who is staying in the life Addie has always known. Addie loves her life just as it is, so her answer should be easy. One Search six weeks into the future proves it's not.
In one potential future, Addie is adjusting to life outside the Compound as the new girl in a Norm high school where she meets Trevor, a cute, sensitive artist who understands her. In the other path, Addie is being pursued by the hottest guy in school—but she never wanted to be a quarterback's girlfriend. When Addie's father is asked to consult on a murder in the Compound, she's unwittingly drawn into a dangerous game that threatens everything she holds dear. With love and loss in both lives, it all comes down to which reality she's willing to live through . . . and who she can't live without.
Review: Pivot Point was awesome. It completely exceeded all of my expectations, and I absolutely loved it. The story is original and very engaging. Having the story play out two different ways is really interesting because you get to see how things could be different based on just one decision. I really enjoyed the characters and thought their powers were neat. While they reminded me of the X-Men, they were distinctly different. There are some great twists towards the end of the novel which I really enjoyed. The ending made me want to find out what happens next, and I can't wait for the second book.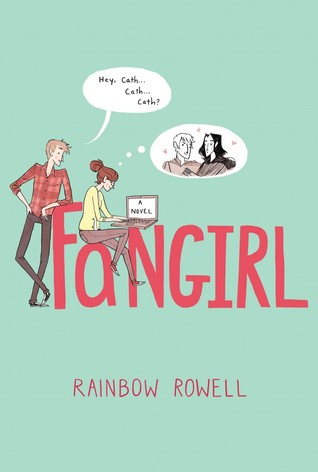 Fangirl – Rainbow Rowell
Genre – Young Adult/Contemporary
My Rating – ★★★½
Cath is a Simon Snow fan.
Okay, the whole world is a Simon Snow fan…
But for Cath, being a fan is her life—and she's really good at it. She and her twin sister, Wren, ensconced themselves in the Simon Snow series when they were just kids; it's what got them through their mother leaving.
Reading. Rereading. Hanging out in Simon Snow forums, writing Simon Snow fan fiction, dressing up like the characters for every movie premiere.
Cath's sister has mostly grown away from fandom, but Cath can't let go. She doesn't want to.
Now that they're going to college, Wren has told Cath she doesn't want to be roommates. Cath is on her own, completely outside of her comfort zone. She's got a surly roommate with a charming, always-around boyfriend, a fiction-writing professor who thinks fan fiction is the end of the civilized world, a handsome classmate who only wants to talk about words… And she can't stop worrying about her dad, who's loving and fragile and has never really been alone.
For Cath, the question is: Can she do this?
Can she make it without Wren holding her hand? Is she ready to start living her own life? Writing her own stories?
And does she even want to move on if it means leaving Simon Snow behind?
Review: I have to say, I have some mixed feelings about Fangirl. I was excited for this book because of all the hype surrounding it, but I feel like it didn't quite live to the expectations I set. The story is definitely cute, and I really enjoy the romance. On the negative side, some of the family elements don't work for me. The biggest issue I have is that I don't like Cath's sister Wren. I know Wren isn't supposed to be well liked, but I find her extremely frustrating. The only other issue I have with the story are the sections of fanfiction that Cath writes. I feel they are unneeded and add virtually nothing to the story. If you're looking for a cute romance with a socially awkward main character, then I would recommend this book. The issues I have with it are minor, and most people really enjoy the book, so definitely consider it.
X-Men: Days of Future Past
Rating – PG-13
My Rating – ★★★★
The X-Men send Wolverine to the past in a desperate effort to change history and prevent an event that results in doom for both humans and mutants.
Review: I've always enjoyed the X-Men franchise, so I was very excited to this in theaters. I was not disappointed. It's an entertaining movie that pays tribute to the first two X-Men movies, and it corrects a few things that were done poorly in X-Men: The Last Stand. The inclusion of time travel is fantastic, and everyone is in character the entire time. It's fun to see how the characters interact with each other. Quicksilver is an awesome addition, and I hope to see him in future installments. Every scene he's in is incredible. There are also a few unexpected twists that keep the audience guessing. X-Men: Days of Future Past is a lot of fun and definitely worth seeing if you've enjoyed other X-Men films.
That Darn Cat
Rating – Approved
My Rating – ★★★★★
A woman is kidnapped. While in captivity, she manages to send a message out with a wandering cat. The cat's owner calls the FBI. The FBI tries to follow the cat. Jealous boyfriends and nosy neighbours also get in the act.
Review: That Darn Cat is one of Chad's favorite childhood movies, so of course he made me watch it. At first, I wasn't sure about this movie because the description sounded a bit silly. However, it is surprisingly very well-done. There are plenty of funny moments throughout this movie, but there are also serious moments as well. The plot is believable even though the story is centered around a cat. It's two hours long, but there is never a dull moment and plenty of great dialogue. Overall, I highly recommend this movie, and I've even made my parents watch it. I think everyone should watch this movie.
Non-Stop
Rating – PG-13
My Rating – ★★★
An air marshal springs into action during a transatlantic flight after receiving a series of text messages that put his fellow passengers at risk unless the airline transfers $150 million into an off-shore account.
Review: Non-Stop is an interesting thriller. Although, I'm pretty sure I would like anything Liam Neeson is in. His characters are always intense and well portrayed. The movie keeps you guessing the whole time and some parts are unpredictable. It's full of action from start to finish. Unfortunately, the movie is far from perfect. The villain is weak at best, and his/her motive is lame. There are a lot of red herrings, making you believe anyone could be the bad guy. In the end, the character chosen seems a poor choice. I like this movie because of Liam Neeson and the thrills, but don't expect much from the plot or ending though. It's just a fun action movie.
The Lego Movie
Rating – PG
My Rating – ★★★★
An ordinary Lego construction worker, thought to be the prophesied 'Special', is recruited to join a quest to stop an evil tyrant from gluing the Lego universe into eternal stasis.
Review: For a movie about people made of plastic, The Lego Movie was surprisingly great. There is so much nostalgia in this movie. Even though I didn't play with Legos when I was younger, the movie brought out the kid in me. It's a really fun movie that plays up childhood imagination. A lot of it is really silly, but the plot is solid and entertaining. The characters are likeable, and it's easy to root for Emmet and his team. The only problem I have with this movie is the fact the ending takes you out of the world. It's an interesting addition, but it drags on for a little too long and feels a bit forced. This is a great movie for parents and kids, and I would highly recommend it. Because "everything is awesome. Everything is cool when you're part of a team!"