The Not Safe For Work Tag was created by ChapterStackss and LukeLaneReads. I thought this tag would be really fun to do, so here we go!
The Questions:
1. What is the LAST book you would want your parents to walk in on you reading?
Savage Spawn: Reflections on Violent Children by Jonathan Kellerman
Genre – Non-Fiction/Psychology
I haven't actually read this book yet, but the title and description are enough to raise a bunch of questions from my parents. I picture my mom walking in on me reading it and then slowly backing out of the room. I'm not in college anymore, and I don't have any children, so it's all the more concerning that I would be reading this book.
2. It's storming outside, and you're home alone for the night. What book would only make matters worse?
Tailypo
Genre – Folklore
Chad and I spent over an hour on the internet trying to find the exact version of this story that I heard as a child, but we were unsuccessful. There are many different versions of this folklore, and the majority of them are terrifying. A man takes a tail which belongs to a "creature" and eats the tail. The creature then haunts him over the next few nights, trying to get its tail back. One night it comes inside his cabin and climbs up over the foot of his bed saying, "tailypo . . . tailypo . . . give me back my tailypo." In the version that I remember, the creature was roughly the size of an adult man, with a wolf face, bobcat ears, and really wanted its tail back . . .
I won't be re-reading this anytime soon, especially if it's storming outside.
3. Have you ever read a book simply because of the controversy surrounding it?
Not that I can recall. I don't really seek out books because they're controversial. I don't avoid them. I just haven't run into any that I would be interested in reading.
4. What is the most cringe-inducing romance or sex scene you have ever read?
A Fair Maiden by Joyce Carol Oates
Genre – Contemporary
** POSSIBLE SPOILER **
This entire book was cringeworthy. There were a few different scenes, but only one went into a lot of detail. Basically, the main character gets raped by someone who is supposed to be helping her seek revenge on someone else who raped her. It's extremely sad. You feel really bad for her and it's just awful. Just know what you're getting into if you decide to read this book.
5. What book has made you question the author's sanity?
It by Stephen King
Genre – Horror
An "eponymous being" disguises itself as a clown to eat children. As if we needed another reason to fear clowns. If that's not enough to make you question his sanity, just read any of his other horror books . . . However, I still love Stephen King.  🙂
6. Have you ever put down a book and not finished it because the content was too much for you?
No, I haven't. There are plenty of other reasons that will make me stop reading a story, but usually the content isn't the deciding factor. Books that I normally put down are boring, have irritating characters, or a really poor plot. I try my best to read through everything, but sometimes it's just too much, and I'd rather spend my time reading something I enjoy.
7. What fictional character do you have the most NSFW thoughts about?
Victor from Vicious by V. E. Schwab
Genre – Fantasy
Victor is very witty. I know he's a sociopath, but there's just something about him that makes him appealing. He knows how to get stuff done, and his power is extremely interesting to me. As someone who really likes psychology, Victor fascinates me.
8. Show us your most NSFW book cover (or drawing/photo inside a book).
Pleasure Prolonged by Cathryn Fox
Genre – Erotica
This is about as risque as it gets with my physical books. However, my tablet is another story because those books don't count.  🙂
9. Have you ever read something from the erotica/romance genre, and what did you think?
Yes, it's not bad. I even own a few. I haven't found anything I really like though. If you have any recommendations, please let me know.
10. You stumble across a portkey. What fictional world would you NOT want to be transported into?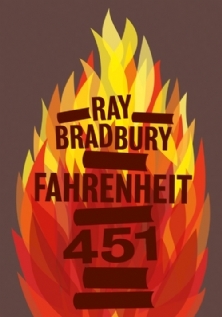 Fahrenheit 451 by Ray Bradbury
Genre – Classic/Science Fiction
The world in Farenheit 451 is described as "post-literate" which means they've advanced to a point where reading and writing is thought of as unneeded and has been deemed illegal. Firemen literally burn books. What kind of world would be worse than that?!
You tell me, by doing this tag!
I tag anyone who would like to do this. If you do this tag or if you've already done it, leave a link in the comments, and I'll be sure to check it out.