The August wrap-up is here! Let me know if you've read or watched any of these and what you're thoughts were or if you want to read or watch any of these.
*All descriptions for books taken from Goodreads and all descriptions for movies taken from IMDb. All pictures link to their respective Goodreads or IMDb pages.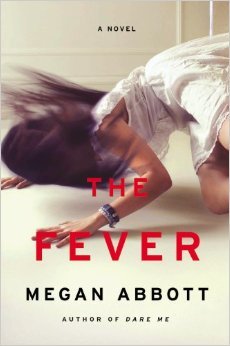 The Fever – Megan Abbott
Genre – Young Adult/Mystery
My Rating – ★★
The panic unleashed by a mysterious contagion threatens the bonds of family and community in a seemingly idyllic suburban community.
The Nash family is close-knit. Tom is a popular teacher, father of two teens: Eli, a hockey star and girl magnet, and his sister Deenie, a diligent student. Their seeming stability, however, is thrown into chaos when Deenie's best friend is struck by a terrifying, unexplained seizure in class. Rumors of a hazardous outbreak spread through the family, school and community.
As hysteria and contagion swell, a series of tightly held secrets emerges, threatening to unravel friendships, families and the town's fragile idea of security.
Review: I have a full review of The Fever. Overall, The Fever wasn't a great mystery. Even though the red herrings were plausible and made sense, the true reason for the outbreak seemed silly. The characters were dull and at times had some inappropriate thoughts about other characters. It was an okay book, but I probably wouldn't recommend it. Others have enjoyed it though, so it's always up to the reader.
Overnight – Adele Griffin
Genre – Young Adult/Mystery
My Rating – ★★★★
Everyone expects Caitlin's sleepover birthday party to be perfect. She is one of the Lucky Seven, the group every sixth-grade girl wants to belong to. But those inside this enchanted circle know it's often less about feeling accepted and more about watching your step. Of the Seven, Gray is the easiest target for the others, and tonight she disappears. As the girls search for Gray, some of them worry. Others have secrets they're not telling, even to the police. And as the truth gets harder to hide, new emotions erupt, friendships become shaky, and a power struggle ensues. The Lucky Seven is in danger of falling apart. And as for Gray, she'll need to call on all of her wavering courage just to survive this turbulent night.
Review: While it's listed in the young adult genre, Overnight is a middle grade read. I can see why some might not like this story. Some of the girls are a bit cliche and can make some terrible decisions, but I think it's rather an enjoyable read. It was surprisingly scary for a middle grade book. Though it may not be for some. It was for me because one of my fears when I was little was what happened to Gray. There were plenty of moments of yelling at the characters to do something and then being frustrated when they didn't do it. The characterization is interesting because while there are cliches such as the shy girl, mean girl, spoiled girl and so on, it doesn't take away from the story. It's interesting to see how everyone reacts in this situation. At first, they don't think much about what happens, but as time progresses and no one has found Gray, they begin to worry about what happened to her. Overall, it's an engaging story and a page-turner, and I would recommend it.
Zombie Blondes – Brian James
Genre – Young Adult/Horror
My Rating – ★★
From the moment Hannah Sanders arrived in town, she felt there was something wrong.
A lot of houses were for sale, and the town seemed infected by an unearthly quiet. And then, on Hannah's first day of classes, she ran into a group of cheerleaders—the most popular girls in school.
The odd thing was that they were nearly identical in appearance: blonde, beautiful, and deathly pale.
But Hannah wants desperately to fit in—regardless of what her friend Lukas is telling her: if she doesn't watch her back, she's going to be blonde and popular and dead—just like all the other zombies in this town. . . .
Review: I actually forgot that I had already read this book years before. I don't think that's a good sign for this story. Nothing really stood out in this novel, and I found myself more frustrated at the main character than anything else. Hannah is very judgmental of others, and she makes rash decisions about the boy that tries to help her. When she's warned not to hang with the popular girls, of course she must do so. The father is another big issue I had with this book. They just moved into town, and he decides it would be a great time to leave his daughter alone. This seemed like a ploy to get the father out of the picture so all the bad stuff could happen to Hannah. It's sad that the story fell flat for me because I really liked the first chapter and the ending, but everything in the middle wasn't that great. I probably wouldn't recommend this book.
Killing Mr. Griffin – Lois Duncan
Genre – Young Adult/Mystery
My Rating – ★★★
High school can be tough. But with teachers like Mr. Griffin it can seem impossible.
They only planned to scare him. But sometimes even the best-laid plans go wrong.
Review: I found out this book was on the banned list, and I can see why since it deals with students killing their teacher. Killing Mr. Griffin has an intriguing plot, and its keeps you wanting to find out what happens next and what will happen to these students. While the plot is interesting, the characters can be annoying at times, and they're forgettable. Throughout the crime, it's easy to pick out what the characters are doing wrong and what will cause them to be caught (not that I want them to get away with their crime). It might be that I watch and read a lot of mysteries and thrillers, but as a character was doing something, I knew that it would end up getting them in trouble later. I loved how peer pressure played into this novel and how it showed how far pressure can make someone go. I didn't really like how the ending was done. It's a silly way to explain what all happened because the reader is told all of the details through a mother's dialogue to her daughter (one of the students involved). However, everything is resolved, and it's a good ending for this type of story. It's worth reading.
The Time Machine – H.G. Wells
Genre – Classic/Science Fiction
My Rating – ★★★
"I've had a most amazing time…."
So begins the Time Traveller's astonishing firsthand account of his journey 800,000 years beyond his own era—and the story that launched H.G. Wells's successful career and earned him his reputation as the father of science fiction. With a speculative leap that still fires the imagination, Wells sends his brave explorer to face a future burdened with our greatest hopes…and our darkest fears. A pull of the Time Machine's lever propels him to the age of a slowly dying Earth. There he discovers two bizarre races—the ethereal Eloi and the subterranean Morlocks—who not only symbolize the duality of human nature, but offer a terrifying portrait of the men of tomorrow as well. Published in 1895, this masterpiece of invention captivated readers on the threshold of a new century. Thanks to Wells's expert storytelling and provocative insight, The Time Machine will continue to enthrall readers for generations to come.
Review: The Time Machine has a unique storytelling method. Besides the beginning and end, it's entirely told through the traveler's dialogue. He explains what happened to him when he traveled to the future. There was a lot of thought put into the aspects of time travel. It's so well done that it makes you wonder if Wells did invent a way to travel in time. I did really enjoy the beginning and ending. There were some boring moments in the story. Especially when the traveler first starts his story. The social commentary can sometimes drag on and made me wonder when the he was going to talk about anything else. However, once the traveler met the Eloi and the Morlocks, the story became really interesting. It's definitely worth reading, especially if you want to see where science fiction began.
The Murder Farm – Andrea Maria Schenkel
Genre – Mystery
My Rating – ★★★½
A whole family has been murdered with a pickaxe. They were old Danner the farmer, an overbearing patriarch, his put-upon devoutly religious wife, and their daughter Barbara Spangler, whose husband Vincenz left her after fathering her daughter, Marianne. Also murdered was the Danners' new maidservant, Marie, who was regarded as slightly simple. Despite the brutal nature of the killings and the small village where it has taken place, the police have no leads. Officially the crime is unsolved. And then a former resident returns home The Murder Farm is an unconventional detective story. The author interweaves testament from the villagers, an oblique view of the murderer, occasional third-person narrative pieces and passages of pious devotion. The narrator leaves the village unaware of the truth, only the reader is able to reach the shattering conclusion.
Review: I have a full review of The Murder Farm. It's a unique and enjoyable story. It's a mystery that keeps you guessing and turning the page. While we don't get to know the characters that well, I feel they all have distinct voices and are interesting enough to keep the story going. The story is told in a very uncommon way, but it works for the plot. If you're looking for a short mystery, you should definitely give this book a chance.
Dreams of the Dead – Thomas Randall
Genre – Young Adult/Horror
My Rating – ★★★★½
Kara's afraid to go to sleep until the nightmares come when she's awake . . . .Sixteen-year-old Kara Foster is an outsider in Japan, but is doing her best to fit at the private school where her father is teaching English for the year. Fortunately she's befriended by Sakura, a fellow outsider struggling to make sense of her sister's unsolved murder some months ago. No one seems to care about the beautiful girl who was so brutally murdered, and the other students go on as if nothing has happened. Unfortunately, the calm doesn't last for long. Kara begins to have nightmares, and soon other students in the school turn up dead, viciously attacked by someone . . . or something. Is Sakura getting back at those she thinks are responsible for her sister's death? Or has her dead sister come back to take revenge for herself?
Review: Dreams of the Dead really surprised me. I wasn't expecting to love it as much as I did. I loved the plot and especially the characters in this story. The characters were so realistic and relatable. Having the story set in Japan only added a bonus to this story. I've always wanted to go to Japan and this story made me want to go even more with all the amazing descriptions. The combination of plot, characters, and setting really made me think about animes and mangas. This added to my enjoyment of the story. The horror aspect of this story was scary but not too much. It was the perfect balance of intriguing and scary elements. There were also a few surprising twists with how the characters dealt with the demon and other students which were interesting. The only thing I didn't like was how the main character responded to her friends thoughts about the demon, but other than that I enjoyed everything about this story. I would definitely recommend this for anyone interested in starting to read horror or if you want a story set in Japan.
---
Justin and the Knights of Valour
Rating – PG
My Rating – ★★½
A young boy becomes a man as he embarks on a quest to become a knight.
Review: Justin and the Knights of Valour is an entertaining movie. However, it's not an amazing movie. It didn't capture my interest as much as I would have liked, and I found myself bored during some scenes. It felt as though I had seen most of what happened in this story but in better movies. It's predictable and most of the characters are cliches. On the other hand, I did enjoy that women were not just damsels in distress, and the movie portrayed them in two different lights which is always nice. It was interesting to watch, but it's not my favorite. I'm sure others have really enjoyed it, so it's always worth checking out.
Rio 2
Rating – G
My Rating – ★★★½
It's a jungle out there for Blu, Jewel and their three kids after they're hurtled from Rio de Janeiro to the wilds of the Amazon. As Blu tries to fit in, he goes beak-to-beak with the vengeful Nigel, and meets his father-in-law.
Review: I didn't expect much out of the sequel to Rio because sequels have a tendency to not be as good as the original, and I only liked Rio (★★★), so I was worried about this movie. However, I found that I liked this one a bit more than the first one. Of course it's predictable in some areas, but it had a few surprises at the end that I didn't expect. I have to say that my favorite scenes were the ones with Nigel and Gabi, especially Nigel because I love the evil ones. It was fun to see how they reacted to each other, and I wanted even more scenes with them. Overall, Rio 2 is a fun movie, and I would recommend it.
The Great Gatsby (2013)
Rating – PG-13
My Rating – ★★★★
A Midwestern war veteran finds himself drawn to the past and lifestyle of his millionaire neighbor.
Review: This version of The Great Gatsby sticks fairly close to the book while also adding it's own elements to the story such as changing the arrangement of dialogue or making a character have certain body language that conveys the right emotion. These additions changed some scenes so they would make more sense, at least to me. I felt they made everything flow easier and made character decisions make more sense. I liked the modern music because it gives it a different twist than the other adaptations. I have to say that I liked this one better than the 1974 version. It's definitely worth watching.
Guardians of the Galaxy
Rating – PG-13
My Rating – ★★★★½
A group of space criminals must work together to stop a fanatic from destroying the galaxy.
Review: Guardians of the Galaxy is such a fun movie. It's extremely funny, and Chad and I laughed throughout the movie. I actually wasn't expecting it to be as funny as it was, but I was pleasantly surprised. They are very unique characters and each one of them add their own charm to the team. There is plenty of action throughout this movie and really cool easter eggs. The only problem I had with the movie was the weak villain. He doesn't pose as big of a threat as I would have liked and the audience doesn't really learn anything about him to make him more developed. I still can't wait for the sequel though. I hope it's as good as this one, if not better. I would recommend it to anyone wanting to get into the super hero movies. It's the perfect place to start.