The wrap-ups are coming slowly but surely. I'm hoping to get August and September up sometime this month too, but we will see if that happens.
*All descriptions for books taken from Goodreads and all descriptions for movies taken from IMDb.
How Not to Write a Novel – Howard Mittelmark and Sandra Newman
Genre – Non-Fiction
My Rating – ★★★★
Many writing books offer sound advice on how to write well. This is not one of those books. On the contrary, this is a collection of terrible, awkward, and laughably unreadable excerpts that will teach you what to avoid—at all costs—if you ever want your novel published.
In How Not to Write a Novel, authors Howard Mittelmark and Sandra Newman distill their 30 years combined experience in teaching, editing, writing, and reviewing fiction to bring you real advice from the other side of the query letter. Rather than telling you how or what to write, they identify the 200 most common mistakes unconsciously made by writers and teach you to recognize, avoid, and amend them. With hilarious "mis-examples" to demonstrate each manuscript-mangling error, they'll help you troubleshoot your beginnings and endings, bad guys, love interests, style, jokes, perspective, voice, and more. As funny as it is useful, this essential how-NOT-to guide will help you get your manuscript out of the slush pile and into the bookstore.
Review: How Not to Write a Novel is an interesting take on writing-advice books. I've always read books for what you are supposed to do, so it was nice to see what not to do when writing a novel. The advice in this book is helpful while being witty and funny. The authors give great examples of everything they discuss, and they do it in a humorous way to make it stand out. There might be some obvious examples of what not to do, but everything is useful, and it's always nice to refresh yourself on what to avoid while writing. The book doesn't tell you to write a specific way, it explains that certain areas in your book would improve if you didn't add anything unnecessary. I feel like every potential author should read this book. Mainly to keep from making simple mistakes and to help engage future readers.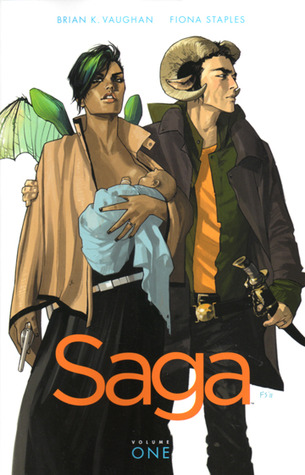 Saga, Volume 1 (Saga #1-6) – Brian K. Vaughan (Writer) and Fiona Staples (Illustrator)
Genre – Graphic Novel/Fantasy
My Rating – ★★★★★
When two soldiers from opposite sides of a never-ending galactic war fall in love, they risk everything to bring a fragile new life into a dangerous old universe.
From New York Times bestselling writer Brian K. Vaughan (Y: The Last Man, Ex Machina) and critically acclaimed artist Fiona Staples (Mystery Society, North 40), Saga is the sweeping tale of one young family fighting to find their place in the worlds. Fantasy and science fiction are wed like never before in this sexy, subversive drama for adults.
This specially priced volume collects the first six issues of the smash-hit series The Onion A.V. Club calls "the emotional epic Hollywood wishes it could make."
Review: Saga is such a great graphic novel. I knew I would like it, but I wasn't prepared to love it as much as I did. It has an amazing story and characters. The characters are what make the story so intriguing. They are unique, and I found myself wanting to know more about all of them. I love that we were able to see different points of view throughout the story. The plot and characters in the story are unpredictable. I had no idea where the story was going to go next or what the characters were going to do, and I really enjoy that aspect in books and graphic novels. The illustrations are beautiful and make the story seem real. However, Saga is definitely for adults because of all the nudity and graphic violence. It's an exciting and fun graphic novel, and I need to get my hands on the second volume soon.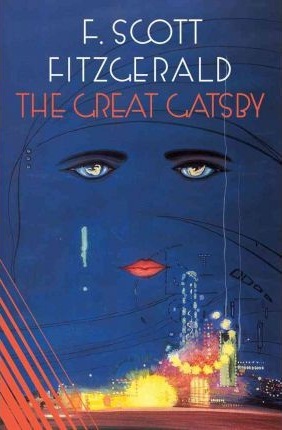 The Great Gatsby – F. Scott Fitzgerald
Genre – Classic/Historical Fiction
My Rating – ★★★
In 1922, F. Scott Fitzgerald announced his decision to write "something new–something extraordinary and beautiful and simple and intricately patterned." That extraordinary, beautiful, intricately patterned, and above all, simple novel became The Great Gatsby, arguably Fitzgerald's finest work and certainly the book for which he is best known. A portrait of the Jazz Age in all of its decadence and excess, Gatsby captured the spirit of the author's generation and earned itself a permanent place in American mythology. Self-made, self-invented millionaire Jay Gatsby embodies some of Fitzgerald's–and his country's–most abiding obsessions: money, ambition, greed, and the promise of new beginnings. "Gatsby believed in the green light, the orgiastic future that year by year recedes before us. It eluded us then, but that's no matter–tomorrow we will run faster, stretch out our arms farther…. And one fine morning–" Gatsby's rise to glory and eventual fall from grace becomes a kind of cautionary tale about the American Dream.
Review: The Great Gatsby is a story where the characters could possibly make it or break it with some readers. The characters are quite realistic but most of them are unlikeable. They each have their own flaws that make them believable and interesting. It did surprise me that there were some boring moments in this book even though the story is short. These moments include unnecessary names and information. At one point there is close to a page and a half of names of people attending Gatsby's party. I know what Fitzgerald was trying to do with it, but it just seems unneeded to progress the story. However, I really enjoyed the ending. I thought it wrapped up the story well, and it was interesting to see how each character reacted to what happened. I would recommend this classic, but you might need to get used to the writing style.
Perfect Shadow – Brent Weeks
Genre – Novella/Fantasy
My Rating – ★★★★
Discover the origins of Durzo Blint in this original novella set in the world of Brent Weeks' New York Times bestselling Night Angel trilogy.
"I got a bit of prophecy," the old assassin said. "Not enough to be useful, you know. Just glimpses. My wife dead, things like that to keep me up late at night. I had this vision that I was going to be killed by forty men, all at once. But now that you're here, I see they're all you. Durzo Blint."
Durzo Blint? Gaelan had never even heard the name.
***
Gaelan Starfire is a farmer, happy to be a husband and a father; a careful, quiet, simple man. He's also an immortal, peerless in the arts of war. Over the centuries, he's worn many faces to hide his gift, but he is a man ill-fit for obscurity, and all too often he's become a hero, his very names passing into legend: Acaelus Thorne, Yric the Black, Hrothan Steelbender, Tal Drakkan, Rebus Nimble.
But when Gaelan must take a job hunting down the world's finest assassins for the beautiful courtesan-and-crimelord Gwinvere Kirena, what he finds may destroy everything he's ever believed in.
Review: Perfect Shadow is a nice addition to The Night Angel Trilogy. It gives great backstory for Durzo and Mama K. You get to feel a better connection to why they act a certain way. There's more of a connection with Durzo when you read this novella before The Way of Shadows because you know more about him once you start the trilogy. The story can be a bit confusing at first because it's not entirely clear what is going on, but after a section or two, it's easy to figure out what's happening. I will warn anyone that reads this before the trilogy that he/she might get some of the twists ruined for him/her. This novella gives away some details that are supposed to be a surprise in the first book, so you'll have to decide if you want to be spoiled or read this book after finishing The Way of Shadows.
The Way of Shadows – Brent Weeks
Genre – Fantasy
My Rating – ★★★★★
From New York Times Bestselling author Brent Weeks…
For Durzo Blint, assassination is an art-and he is the city's most accomplished artist.
For Azoth, survival is precarious. Something you never take for granted. As a guild rat, he's grown up in the slums, and learned to judge people quickly – and to take risks. Risks like apprenticing himself to Durzo Blint.
But to be accepted, Azoth must turn his back on his old life and embrace a new identity and name. As Kylar Stern, he must learn to navigate the assassins' world of dangerous politics and strange magics – and cultivate a flair for death.
Review: The Way of Shadows is a great fantasy. There are a lot of characters in this story, but each of them are memorable and stand out. I found myself really enjoying every different perspective and that's good since there were quite a few of them. Even though there are lots of characters and points of view, there are no dull moments in the story. Everyone is important to the plot, and it's interesting to see what each character is doing. One aspect I like about the characters is that no one is 100% good or evil. They're a mix and a lot of the time their morals are questionable. It's interesting to see how everyone reacts to one another. Durzo is, of course, my favorite character. I did enjoy the writing style and all of the action-filled plot. Something interesting is always going on to make you want to keep reading. The novel has a ton of twists and turns that make it even more awesome. I would highly recommend this book to anyone wanting an entertaining plot and characters.
Vicious – V.E. Schwab
Genre – Fantasy
My Rating – ★★★★★
A masterful, twisted tale of ambition, jealousy, betrayal, and superpowers, set in a near-future world.
Victor and Eli started out as college roommates—brilliant, arrogant, lonely boys who recognized the same sharpness and ambition in each other. In their senior year, a shared research interest in adrenaline, near-death experiences, and seemingly supernatural events reveals an intriguing possibility: that under the right conditions, someone could develop extraordinary abilities. But when their thesis moves from the academic to the experimental, things go horribly wrong. Ten years later, Victor breaks out of prison, determined to catch up to his old friend (now foe), aided by a young girl whose reserved nature obscures a stunning ability. Meanwhile, Eli is on a mission to eradicate every other super-powered person that he can find—aside from his sidekick, an enigmatic woman with an unbreakable will. Armed with terrible power on both sides, driven by the memory of betrayal and loss, the archnemeses have set a course for revenge—but who will be left alive at the end?
In Vicious, V. E. Schwab brings to life a gritty comic-book-style world in vivid prose: a world where gaining superpowers doesn't automatically lead to heroism, and a time when allegiances are called into question.
Review: Vicious is another novel where the characters are not 100% good or evil. I love the idea that if someone were to get superpowers, it doesn't mean that they will use it for good and that's what makes this story so entertaining. They're anti-heroes, and it's not always clear who you should be rooting for. Each of them have their own selfish agenda they want to fulfill for one reason or another. I also love when there are no throwaway characters. If you were to take out any of the characters, the story wouldn't be the same. Every character in this story is needed, and the characterization is really well-done. This story has a fantastic beginning and ending. The intro is memorable and really sucks you into the story from the start. The ending is the perfect ending for this type of novel because it sums everything up and makes sense for what was going on in the novel. Vicious is very character-oriented with an engaging story and world. I highly recommend this book! I want more from this world, and I hope there's a sequel in the future for this story.
---
Waterworld
Rating – PG-13
My Rating – ★★★
In a future where the polar ice-caps have melted and Earth is almost entirely submerged, a mutated mariner fights starvation and outlaw "smokers," and reluctantly helps a woman and a young girl try to find dry land.
Review: While Waterworld is far from being the best, it's still an entertaining movie. The world is unique, and it's easy to tell a lot of work went into the props and sets. That aspect is my favorite part of the movie. Just seeing the new inventions they created was pretty awesome. On the other hand, the characters and the plot could have been better. The characters are amusing and somewhat believable, but you don't really get attached to them. It's a fun story about an alternate future, but don't expect it to be in your top five.
Wild America
Rating – PG
My Rating – ★★★
Three brothers – Marshall, Marty and Mark dream of becoming naturalists and portraying animal life of America. One summer their dream comes true, they travel through America, filming alligators, bears and moose.
Review: Wild America is a fun adventure story that's full of surprises. The only reason this doesn't get a higher star rating is because the ending is a little strange. Once the boys get to the scene with the bears everything starts to fall apart. The bears look extremely fake, and the way the situation is resolved seemed ridiculous. Chad and I ended up laughing during most of the ending. However, everything is believable up until that point, and it's really enjoyable to watch.
The Great Gatsby (1974)
Rating – PG
My Rating – ★★★½
A Midwesterner becomes fascinated with his nouveau riche neighbor, who obsesses over his lost love.
Review: After reading the book, I wanted to watch one of the many film adaptations. We chose this one because it was the only one on Netflix at the time. It was nice to see the book come to life, and in some ways, the movie was better than the book. Some of the scenes were altered and seemed to make more sense. The acting was better than we expected, but there were some times it was a little off. Myrtle, for instance, seemed a bit more dramatic with everything than she did in the book. If you enjoyed the book, I  believe you will enjoy this movie as well because it tries to stay true to the source material.