I was tagged for the Bookshelf Tag by littleonionwrites. It's taken me a while to do this tag, but I have finally finished. Here we go!
Rules:
Answer the following questions about books on your book and then tag five other bloggers. You can answer the questions any way you want, whether it's on your blog, in a video, or a combination of the two. Then remember to let whoever tagged you know when your post is up so they can read it.
1. Is there a book that you really want to read but haven't because you know that it'll make you cry?
The Road by Cormac McCarthy
I've been avoiding this book for a while. For one, McCarthy doesn't use quotation marks, so it's a little intimidating when trying to read his work. Plus, the subject matter is depressing: a father and son in the apocalypse, and I found out that it doesn't end happily. I'm not sure when I'll be prepared to read this novel.
2. Pick one book that helped introduce you to a new genre. 
Wounded by Stephen Cole
This book sparked my interest in the Fantasy and Paranormal genres. As I've stated before, this book started my love for reading. It was my first werewolf story, and it helped me fall in love with fiction. Being able to escape the world for a short time to go on an adventure is an incredible experience, and I'm glad I have such a large variety of books in my life.
3. Find a book that you want to reread.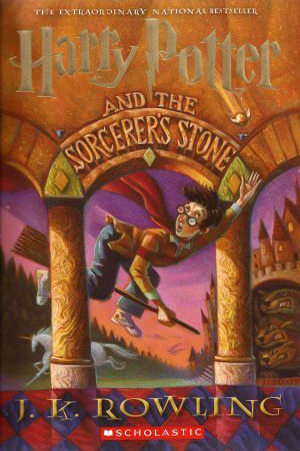 Harry Potter and the Sorcerer's Stone by J. K. Rowling
It might be really shocking, but I haven't finished reading the Harry Potter series. I've only read to the fourth book. I want to reread the first three and continue on with the series soon. I have watched all the movies, of course, but I want to experience all of the Harry Potter awesomeness.
4. Is there a book series you read but wish that you hadn't?
I haven't found a series yet where I've read all the books and haven't enjoyed them. Usually, if I don't enjoy the first book much, then I won't continue reading the sequels.
5. If your house was burning and all of your family and pets were safe, which book would you go back inside to save?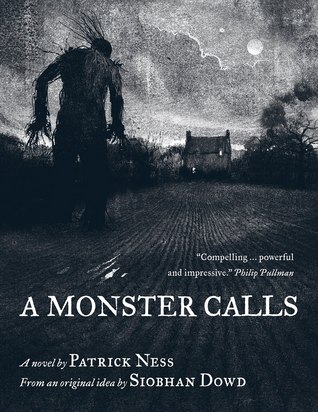 A Monster Calls by Patrick Ness
If I could only save one book, I would have to pick my signed copy of A Monster Calls. It's one of my favorite books of all time. While being an emotional story, it has beautiful illustrations to match the tone of the novel. Plus, it was a gift from Chad and holds a lot of sentimental value.
6. Is there one book on your bookshelf that brings back fond memories?
The Wonderful Wizard of Oz by L. Frank Baum
I took a Children's Literature class in college. It was not as easy as it may sound. It was an entire semester packed into three weeks, so we had a lot of work. We ended up writing 2 – 3 page essays every night. One night we had to read The Wonderful Wizard of Oz and write a paper on it. So far, it doesn't seem like a fond memory, but my friend was also in this class, and we would text each other all night while we were trying to finish all of this work. We had a lot of funny conversations, one of which was about us quitting college and opening a wig shop for the college students who get so stressed they pull their hair out. Suffice it to say, she helped me get through this class, and I'll always have fond memories of our conversations while we were stressing out.
7. Find a book that has inspired you the most. 
Hyperbole and a Half by Allie Brosh
I wasn't expecting to be inspired by this book. I heard it was funny, and I wanted to read something to make me laugh. However, it was so much more than just a funny book. It's relatable and the stories in it are hilarious while also being honest and down-to-earth. It's such an incredible book.
8. Do you have any autographed books?
I have six autographed books.
All the Truth That's in Me by Julie Berry
A Monster Calls by Patrick Ness
Reader by Erec Stebbins
The Raven Boys by Maggie Stiefvater
Sinner by Maggie Stiefvater
Crewel by Gennifer Albin
9. Find the book that you have owned the longest.
I would have to say any of my R. L. Stine books. I have quite a few, but I'm not sure which one is the oldest because I've been collecting them since I was young. I remember getting them from the bookmobile at school. I will keep them all until they fall apart. Even then, I'll probably still keep them because I like them so much.
10. Is there a book by an author you never imagined you would read and enjoy?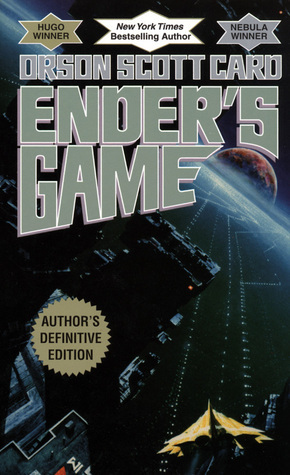 Ender's Game by Orson Scott Card
I usually try to separate the author from their work so I can make my own opinions about the books. I only avoid an author when he/she does something against his/her readers or if the author is rude. At first, I was worried about reading Card's work because I didn't know if his strong opinions about homosexuality would be prominent in his books. I was pleasantly surprised when they were not. I've only read Ender's Game, but Chad loves Orson Scott Card's books, so I definitely want to read more of them.
I Tag…