The May Wrap-Up is finally here and only three months late. In May, I read five books and watched three movies. It's a bit of a step down from April where I read 11 books and watched seven movies, but I still did pretty good. I'm working on my June and July Wrap-Up, and I plan to have both up sometime during this month. Let me know if you've read or watched any of these books and movies and what you thought of them.
*All descriptions for books taken from Goodreads and all descriptions for movies taken from IMDb.
The Sons of Liberty #1 – Alexander Lagos and Joseph Lagos
Genre – Young Adult/Historical Fiction
My Rating – ★★★★
Forget everything you thought you knew about America's early days-history packs a punch in this full-color, two-fisted, edge-of-your-seat adventure!
Graphic novels are a revolution in literature, and The Sons of Liberty is a graphic novel like no other. Visual and visceral, fusing historical fiction and superhero action, this is a tale with broad appeal-for younger readers who enjoy an exciting war story, for teenagers asking hard questions about American history, for adult fans of comic books, for anyone seeking stories of African American interest, and for reluctant readers young and old.
In Colonial America, Graham and Brody are slaves on the run-until they gain extraordinary powers. At first they keep a low profile. But their mentor has another idea-one that involves the African martial art dambe . . . and masks.
With its vile villains, electrifying action, and riveting suspense, The Sons of Liberty casts new light on the faces and events of pre-Revolution America, including Ben Franklin and the French and Indian War. American history has rarely been this compelling-and it's never looked this good.
Review: The Sons of Liberty was my first graphic novel, and it did not disappoint. The concept for this book is a entertaining new twist on American history. The artwork is beautiful and vibrant. The details are great, and it's easy to distinguish between each character. While characters may not be completely relatable, they are enjoyable and engaging. I wanted a lot more action because of the set up during the first few pages, but I'm glad that we were able to see the backstory of the main characters and how they got accustomed to their powers. I would definitely recommend this graphic novels to anyone that loves historical retellings or anyone interested in a fun and entertaining story about two boys who gain special powers.
The Sons of Liberty #2: Death and Taxes – Alexander Lagos and Joseph Lagos
Genre – Young Adult/Historical Fiction
My Rating – ★★★
Several years have passed since Graham and Brody escaped the bonds of slavery. Now, when the streets of Philadelphia erupt in violence, the two boys must decide: will they use their extraordinary abilities to aid the growing rebellion or to quell it? An ambitious, thought-provoking, and visually stunning graphic novel, Death and Taxes offers an entirely new way to experience all the hope and heartbreak of America's early days.
Review: Death and Taxes is the second installment for the The Sons of Liberty dualogy. While I still love the story and wanted to find out what happened to Graham and Brody, there were elements missing that the first one had. The story can be a bit dull in places, and the main villain isn't a scary as he is made out to be. The artwork is still nice, but at some points, it's hard to figure out the difference between the characters. However, it's a great story, and I did enjoy the unpredictable ending. I want to find out what becomes of the two main characters, and I would really love another addition to this story.
This Song Will Save Your Life – Leila Sales
Genre – Young Adult/Contemporary
My Rating – ★★★
Making friends has never been Elise Dembowski's strong suit. All throughout her life, she's been the butt of every joke and the outsider in every conversation. When a final attempt at popularity fails, Elise nearly gives up. Then she stumbles upon a warehouse party where she meets Vicky, a girl in a band who accepts her; Char, a cute, yet mysterious disc jockey; Pippa, a carefree spirit from England; and most importantly, a love for DJing.
Told in a refreshingly genuine and laugh-out-loud funny voice, THIS SONG WILL SAVE YOUR LIFE is an exuberant novel about identity, friendship, and the power of music to bring people together.
Review: This Song Will Save Your Life was a bit of a disappointment for me. I did like it, but I didn't love it like I thought I would. I'll start with everything that I liked. I think the messages the book focused on are important for young teens in high school or anyone not sure about themselves. It shows that everything gets better over time and that you can find something you love that makes you happy. However, I did have problems with other parts of the story. I didn't really like Elise. Of course, I felt terrible for her at the beginning with what she was dealing with, but as the story progressed, I felt that she was very judgmental of everyone around her and made impulsive decisions. Some of her actions were unjustified, in my opinion such as (SPOILER)  – destroying her stepsister's project – (END SPOILER). I understand her reasons and why she committed the act, but I felt there wasn't a good enough reason to do so. There were also times when the motivations of some characters were strange or silly such as the person's reason for making the hateful blog about Elise. I would recommend this book because of it's message, even though I didn't enjoy everything in the story.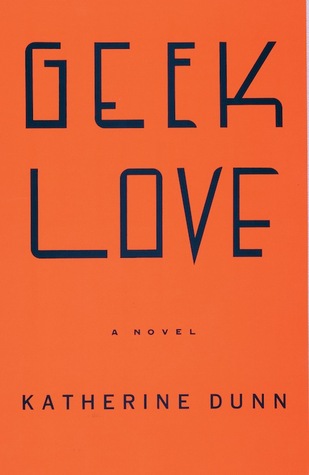 Geek Love – Katherine Dunn
Genre – Horror
My Rating – ★★★½
Geek Love is the story of the Binewskis, a carny family whose mater- and paterfamilias set out–with the help of amphetamine, arsenic, and radioisotopes–to breed their own exhibit of human oddities. There's Arturo the Aquaboy, who has flippers for limbs and a megalomaniac ambition worthy of Genghis Khan . . . Iphy and Elly, the lissome Siamese twins . . . albino hunchback Oly, and the outwardly normal Chick, whose mysterious gifts make him the family's most precious–and dangerous–asset.
As the Binewskis take their act across the backwaters of the U.S., inspiring fanatical devotion and murderous revulsion; as its members conduct their own Machiavellian version of sibling rivalry, Geek Love throws its sulfurous light on our notions of the freakish and the normal, the beautiful and the ugly, the holy and the obscene. Family values will never be the same.
Review: Geek Love is a strange story, and it's definitely not for everyone. If the description sounds odd, believe me when I say it gets quite weird. There are a lot of disturbing things that happen within this novel such as cults, taking drugs while pregnant to get "special" children, sketchy doctors, and mutilation. This is a unique story with quite a few subplots, and it's easy to see that a lot of time and research went into creating this novel, which is admirable. The characters are not exactly likeable and they have plenty of flaws, but they're distinct and add their own dimension to the story. They're intriguing and make you want to find out what happens to the family. I didn't particularly like the parts of the story where there was a focus on Oly when she's older. These moments seemed to drag the story down and make it a little boring. I wanted the story to stay with the Binewskis when Oly is younger because I feel like the book would have had more of an impact. If the book ended with Chick's final act, it could have been more powerful with a more drawn out scene. I ended up having to read that section twice to confirm what actually happened and that moment could have been more epic if that were the official ending. This book is worth reading but be warned that this novel takes disturbing to a new level.
Emotional Blackmail – Susan Forward with Donna Frazier
Genre – Non-Fiction
My Rating – ★★★★
Emotional blackmail is a powerful form of manipulation in which people close to us threaten to punish us for not doing what they want. Emotional blackmailers know how much we value our relationships with them. They know our vulnerabilities and our deepest secrets. They can be our parents or partners, bosses or coworkers, friends or lovers. And no matter how much they care about us, they use this intimate knowledge to win the pay-off they want: our compliance.
In Emotional Blackmail, bestselling author Susan Forward dissects the anatomy of a relationship damaged by manipulation to give blackmail targets the tools they need to fight back. In a clear, no-nonsense style, she outlines the specific steps readers can take, offering checklists, practice scenarios, and concrete communications techniques that will strengthen relationships and break the blackmail cycle for good.
Review: Emotional Blackmail is a great book for people who have individuals that manipulate them. It goes through steps to figure out if you are being emotionally blackmailed and how to possibly deal with this information. This is a great book to find out if you have a blackmailer in your life and different ways to deal with the situation in a constructive way. It's extremely useful to learn why the blackmailer is putting you through this turmoil. There were plenty of actual cases shown within the book and each of them demonstrated how each individual handled his/her blackmailer.  Of course, each case is different and might not be solved in the best possible way but having knowledge about the situation is helpful. I would definitely recommend this book because it might shed some light to some who don't even know they are being emotionally blackmailed.
Hero
Rating – PG-13
My Rating – ★★★★
A not-so-nice man rescues passengers from a crashed airliner, only to see someone else take credit.
Review: For a large portion of Hero, I was incredibly frustrated with the characters. From everyone not believing the actual hero to the news reporter's feelings towards the fake hero. Then near the end, I started enjoying it a lot, and I really liked how it wrapped up. It was a perfect ending to this sort of movie and matched all of the characters' personalities. I feel the plot is unique, and I've never come across another movie like this one. The characters are not a hundred percent likeable, especially the hero, but it only adds to the overall story. This is worth watching, and if nothing else, you get to see Dustin Hoffman be a really grouchy little fella.
Quest for Camelot
Rating – G
My Rating – ★★
An adventurous girl, a young blind hermit and a goofy two headed dragon race to find the lost sword Excalibur to save King Arthur and Camelot from disaster.
Review: Quest for Camelot was a disappointment for me. I was excited for a great adventure with a strong female lead, but all it seemed to be was a girl in need of help on her journey. I do appreciate the incorporation of a blind young man to give the story a different twist, but it really isn't very different from other stories with damsels in distress. Girl goes on adventure, she gets in trouble, guy rescues her, guy continues to save girl throughout story, and funny side characters join in to add silly banter and sing humorous songs. I honestly cannot remember any of the characters' names, and at this point, I don't care enough to look them up. It was saddening to keep seeing the girl constantly in danger and then being saved by the guy. The villain is pretty laughable as well. While he is extremely evil and scary looking, he ends up making silly decisions about the escaping girl and breaks off into song and interpretive dance to explain his next move to the mother and girl. I feel there are much better children's movies out there and while I don't hate this movie, I would have to say it's worth skipping.
Godzilla (2014)
Rating – PG-13
My Rating – ★★★★½
The world's most famous monster is pitted against malevolent creatures who, bolstered by humanity's scientific arrogance, threaten our very existence.
Review: I have a full review of Godzilla. Godzilla is a great summer movie. If you were worried about seeing this because of previous versions, don't be because Godzilla has been redeemed in this movie. It's the perfect blend of action and suspense and contains great acting and special effects. Of course, I wanted to see more Godzilla, but it makes it more enjoyable when he is onscreen. I've read that there's a possibility of this becoming a trilogy. I'm excited for future installments and hope to see Godzilla in all his glory.