At the beginning of July, Chad and I went to one of Maggie Stiefvater's book signings. We went to the first signing on her tour where she was giving away one of the three guitars that she custom painted for Sinner. Of course, we didn't win the guitar, but we received other goodies. We decided that it would be cool to give away a signed copy of her new book, so we bought an extra copy. Each book came with some additional swag, a signed book cover!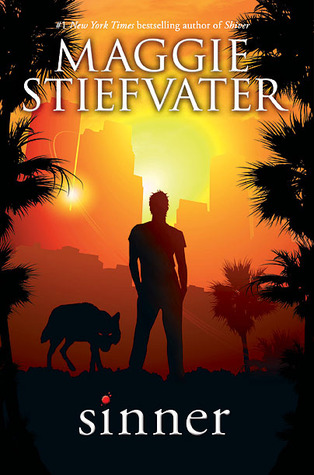 Sinner – Maggie Stiefvater
Genre – Young Adult/Fantasy
A standalone companion book to the internationally bestselling Shiver Trilogy.
Sinner follows Cole St. Clair, a pivotal character from the #1 New York Times bestselling Shiver Trilogy. Everybody thinks they know Cole's story. Stardom. Addiction. Downfall. Disappearance. But only a few people know Cole's darkest secret — his ability to shift into a wolf. One of these people is Isabel. At one point, they may have even loved each other. But that feels like a lifetime ago. Now Cole is back. Back in the spotlight. Back in the danger zone. Back in Isabel's life. Can this sinner be saved?
*Description taken from Goodreads.
In this giveaway, one lucky winner will receive the following items: One signed hardback copy of Sinner and one signed book cover.
The picture to the right displays the original cover, the book with the custom book cover on, and the book cover spread out. The picture on the left shows the title page with Maggie's signature. You can click on the pictures for a close-up.
The giveaway will last for two weeks and end on August 11th. I want to give plenty of people a chance to enter.
Click the link below to enter the giveaway.
**US only. Good luck!