More books! My wallet no longer likes bookoutlet. I seem to always end up with books in my cart on that website, even when I'm only browsing. I just need to stop browsing, I suppose. I'm happy to say that I don't have anymore books in my cart at the moment. That will change soon, I'm sure, but I'm doing great so far. I did end up buying two graphic novels in this haul that I'm excited about. The covers are beautiful, and the artwork is even better. I've never bought a graphic novel before besides the Vampire Academy in my last haul. The only bad thing about this is that I want to get more now. I'm sure there will be plenty of book hauls in the future that will have some graphic novels. I would love to have recommendations for some good graphic novels if anyone has any to share.
*All descriptions taken from Goodreads.
The Sons of Liberty #1 – Alexander Lagos and Joseph Lagos
Genre – Young Adult/Historical Fiction
Forget everything you thought you knew about America's early days-history packs a punch in this full-color, two-fisted, edge-of-your-seat adventure!
Graphic novels are a revolution in literature, and The Sons of Liberty is a graphic novel like no other. Visual and visceral, fusing historical fiction and superhero action, this is a tale with broad appeal-for younger readers who enjoy an exciting war story, for teenagers asking hard questions about American history, for adult fans of comic books, for anyone seeking stories of African American interest, and for reluctant readers young and old.
In Colonial America, Graham and Brody are slaves on the run-until they gain extraordinary powers. At first they keep a low profile. But their mentor has another idea-one that involves the African martial art dambe . . . and masks.
With its vile villains, electrifying action, and riveting suspense, The Sons of Liberty casts new light on the faces and events of pre-Revolution America, including Ben Franklin and the French and Indian War. American history has rarely been this compelling-and it's never looked this good.
The Sons of Liberty #2: Death and Taxes – Alexander Lagos and Joseph Lagos
Genre – Young Adult/Historical Fiction
Several years have passed since Graham and Brody escaped the bonds of slavery. Now, when the streets of Philadelphia erupt in violence, the two boys must decide: will they use their extraordinary abilities to aid the growing rebellion or to quell it? An ambitious, thought-provoking, and visually stunning graphic novel, Death and Taxes offers an entirely new way to experience all the hope and heartbreak of America's early days.
Don't You Wish – Roxanne St. Claire
Genre – Young Adult/Contemporary
Plain and unpopular Annie Nutter gets zapped by one of her dad's whacked-out inventions into a parallel universe Ayla Monroe – gorgeous, rich queen bee of her high school. In glitzy Miami, her different billionaire dad supplies money but is absent. Friends hit the clubs, party backstage at concerts, and take risks that are exhilarating, and illegal. Ayla has a date to lose her V-card with the hottest guy she's ever seen, but she's still Annie on the inside. Will she take the chance to leave the dream life and head back to dreary Pittsburgh?
Siren's Storm – Lisa Papademetriou
Genre – Young Adult/Fantasy
Nothing has been the same for Will ever since what happened last summer. One day, on an ordinary sailing trip with his brother, there is a strange accident. When Will wakes up, he learns his brother has disappeared, presumed drowned. Worst of all, Will can't remember what happened—his family finds him unconscious, with no memory of the accident.
Now Will and his best friend and neighbor, Gretchen, are starting a new summer. Gretchen seems troubled—her sleepwalking habit is getting worse, and she keeps waking up closer and closer to the water. Will is drawn to Asia, the exotic new girl in town. Nobody knows where she's from—all Will knows is that her beauty and her mesmerizing voice have a powerful effect on people.
Then there is another mysterious drowning, and Will and Gretchen begin to wonder: Is Asia just another beautiful, wealthy summer resident? Or is she something entirely more sinister . . . and inhuman?
Fury's Fire – Lisa Papademetriou
Genre – Young Adult/Fantasy
At the end of Siren's Storm, the Sirens were defeated, and now the town of Walfang is once again a peaceful beach community.
Or is it? Gretchen and Will are still haunted by the memories of the night the Sirens were destroyed—Gretchen because she can't remember what happened and Will because he doesn't know how to tell Gretchen what he saw. He doesn't even understand what he saw, but he does know now that Gretchen is more than what she seems, more than a human girl. And at the same time, he is more in love with her than ever.
Gretchen knows there's something wrong, too. She feels like an alien in her own body, but she doesn't know why. And she feels a presence stalking her at every turn. Have the Sirens returned to Walfang? Or has some other force come to claim her?
Torn to Pieces – Margot McDonnell
Genre – Young Adult/Mystery
Anne is used to her single mother's being away on extended business trips. But when her mom is a few days late coming home and her hotel phone has been disconnected, Anne knows something is wrong. Then a strange man starts leaving messages on their answering machine, threatening a woman Anne has never heard of.
Frightened and worried, Anne confides in her grandparents, who give Anne a sealed envelope containing a letter that her mother wrote before she left. With each page, the fabric of Anne's relatively normal life is torn to pieces. Not only does her mother explain why she disappeared, but she reveals other dark secrets that put Anne in grave danger. Now Anne doesn't know whom to trust . . . especially since those closest to her are not who they claim to be.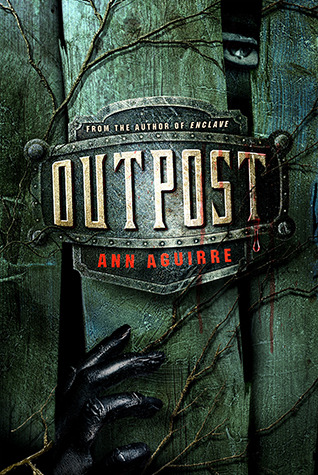 Outpost – Ann Aguirre
Genre – Young Adult/Science Fiction
Deuce's whole world has changed.
Down below, she was considered an adult. Now, topside in a town called Salvation, she's a brat in need of training in the eyes of the townsfolk. She doesn't fit in with the other girls: Deuce only knows how to fight.
To make matters worse, her Hunter partner, Fade, keeps Deuce at a distance. Her feelings for Fade haven't changed, but he seems not to want her around anymore. Confused and lonely, she starts looking for a way out.
Deuce signs up to serve in the summer patrols—those who make sure the planters can work the fields without danger. It should be routine, but things have been changing on the surface, just as they did below ground. The Freaks have grown smarter. They're watching. Waiting. Planning. The monsters don't intend to let Salvation survive, and it may take a girl like Deuce to turn back the tide.
Dress Your Family in Corduroy and Denim – David Sedaris
Genre – Non-Fiction/Humor
David Sedaris returns to his deliriously twisted domain: hilarious childhood dramas infused with melancholy; the gulf of misunderstanding that exists between people of different nations or members of the same family; and the poignant divide between one's best hopes and most common deeds. The family characters his readers love are all here, as well as the unique terrain they inhabit, strewn with comic landmines. 'The Rooster' is back, and getting married in the funniest wedding ever described. David attends a slumber party and gets the upper hand in a unique version of strip poker. 'Rubber or plastic?' The strangest questions can tear people apart. A skinny guy from Spain, wearing a bishop's hat and accompanied by six to eight men, invades your house and pretends to kick you. Is this any way to spend Christmas? With this new book, Sedaris's prose reaches breathtaking new heights and marks off a territory that is unmistakably his own. Read it and weep tears of humane laughter.
Psychos – John Skipp (Editor)
Genre – Horror
This collection of thirty-five terrifying tales of serial killers at large, written by the great masters of the genre, plumbs the horrifying depths of a deranged mind and the forces of evil that compel a human being to murder, gruesomely and methodically, over and over again.
From Hannibal Lecter (The Silence of the Lambs) to Patrick Bateman (American Psycho), stories of serial killers and psychos loom large and menacing in our collective psyche. Tales of their grisly conquests have kept us cowering under the covers, but still turning the pages.
Psychos is the first book to collect in a single volume the scariest and most well-crafted fictional works about these deranged killers. Some of the stories are classics, the best that the genre has to offer, by renowned writers such as Neil Gaiman, Jack Ketchum, Edgar Allan Poe, Robert Bloch, and Thomas Harris. Other selections are from the latest and most promising crop of new authors.