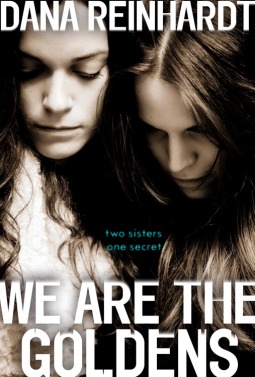 Genre: Young Adult
*I received this book from Netgalley for an honest review.
We Are the Goldens by Dana Reinhardt is a contemporary novel about two sisters named Nell and Layla. The sisters have had a close bond that only grew stronger once their parents divorced. There seems to be nothing that can come between them until Nell finds out a secret about Layla that could destroy everything.
Nell adores her older sister. She and Layla have always been one unit, both relying on the other, but Layla begins changing. Nell discovers that Layla is in a relationship with one of the teachers, and she tries to support Layla's decision, but she is torn between her sister's happiness and her own feelings that the relationship is wrong. Nell must decide what she will choose to do before it's too late.
The writing style is different in We Are the Goldens. It's in first person, but Nell speaks directly to the reader as if she is talking to her sister Layla. She will state things like "do you remember the time we did this" or "mom and dad were mad at us about that" (not direct quotes from novel). I'm not used to the narrator speaking directly to me as if I was one of the characters, but it worked well for the story. It adds a unique voice to the narration and makes the reader feel more connected to Nell.
Nell looks up to Layla and wants to be more like her in every way. While I understand that Nell admires Layla, Nell did seem a bit "obsessed" with her sister at times. Although I didn't fully understand Nell's "obsession" with Layla, I did appreciate their relationship. It would be nice to have a bond with someone from birth and to have him/her be there for you during tough times. Though Layla was quite annoying at times, the way the characters were portrayed made them realistic, and I could believe that this family existed. When the secret is revealed, Nell only wants what is best for her sister.
There is a focus on character interaction that helps make the plot engaging. It's easy to keep turning the pages to find out what happens next. I enjoy that the secret was already explained, so there is more time spent on figuring out what Nell should do next. The characterization is nice throughout the novel, and it's interesting to learn more about each character. The ending is left open-ended for the reader to decide what truly happens next. Even though I wanted a little more closure, I liked how it ended.
We Are the Goldens focuses on a bond between two sisters. It's a fast-paced story that makes you want to keep reading to find out what happens to Nell and Layla. The characters are believable and make for a really interactive and enjoyable story. The writing style is different than other young adult novels, but it added to the plot. It's a well-rounded story that I would recommend. We Are the Goldens is still available on Netgalley, if anyone wants to read it before the publication date May 27th, 2014.
My Rating: ★★★★