April was a fantastic month for me! I read eleven books and watched seven "new" movies. Most of these movies were not new releases, but they were new to me. I'm surprised I did this well. It's really exciting, and now, I know that it's possible for me to read a bunch of books at once.
*All descriptions for books taken from Goodreads and all descriptions for movies taken from IMDb.
Ready Player One – Ernest Cline
Genre – Science Fiction
My Rating – ★★★★
It's the year 2044, and the real world is an ugly place.
Like most of humanity, Wade Watts escapes his grim surroundings by spending his waking hours jacked into the OASIS, a sprawling virtual utopia that lets you be anything you want to be, a place where you can live and play and fall in love on any of ten thousand planets.
And like most of humanity, Wade dreams of being the one to discover the ultimate lottery ticket that lies concealed within this virtual world. For somewhere inside this giant networked playground, OASIS creator James Halliday has hidden a series of fiendish puzzles that will yield massive fortune–and remarkable power–to whoever can unlock them.
For years, millions have struggled fruitlessly to attain this prize, knowing only that Halliday's riddles are based in the pop culture he loved–that of the late twentieth century. And for years, millions have found in this quest another means of escape, retreating into happy, obsessive study of Halliday's icons. Like many of his contemporaries, Wade is as comfortable debating the finer points of John Hughes's oeuvre, playing Pac-Man, or reciting Devo lyrics as he is scrounging power to run his OASIS rig.
And then Wade stumbles upon the first puzzle.
Suddenly the whole world is watching, and thousands of competitors join the hunt–among them certain powerful players who are willing to commit very real murder to beat Wade to this prize. Now the only way for Wade to survive and preserve everything he knows is to win. But to do so, he may have to leave behind his oh-so-perfect virtual existence and face up to life–and love–in the real world he's always been so desperate to escape.
A world at stake.
A quest for the ultimate prize.
Are you ready?
Review: I have a full review for Ready Player One on my blog. Overall, Ready Player One is an enjoyable read. There are plenty of 80's references to satisfy anyone's need for nostalgia. While there are a few issues, the novel is entertaining and keeps the reader wanting to find out what happens next. The finale is intense and should be quite fulfilling for most readers. I would definitely recommend this to anyone who is looking for a unique story.
Skary Childrin and the Carousel of Sorrow – Katy Towell
Genre – Children/Fantasy
My Rating – ★★★
Twelve years ago, for 12 days straight, the town of Widowsbury suffered a terrible storm, which tore open a gate through which escaped all sorts of foul, rotten things. Strange things and strange people were no longer welcomed in Widowsbury, for one could never be sure of what secrets waited under the surface . . .
Adelaide Foss, Maggie Borland, and Beatrice Alfred are known by their classmates at Widowsbury's Madame Gertrude's School for Girls as "scary children." Unfairly targeted because of their peculiarities—Adelaide has an uncanny resemblance to a werewolf, Maggie is abnormally strong, and Beatrice claims to be able to see ghosts—the girls spend a good deal of time isolated in the school's inhospitable library facing detention. But when a number of people mysteriously begin to disappear in Widowsbury, the girls work together, along with Steffen Weller, son of the cook at Rudyard School for Boys, to find out who is behind the abductions. Will they be able to save Widowsbury from a 12-year-old curse?
Review: Skary Childrin and the Carousel of Sorrow is an interesting story. While there are very stereotypical characters such as the overly mean head mistress or the almost too sweet librarian, it has enjoyable main characters that are unique in their own ways. The plot was entertaining, and I loved the spooky aspect of the story. The villain is predictable, but it was fun to see the girls solving the mystery of the missing people. The novel is definitely targeted at younger audiences, and it won't be for everyone but children should enjoy it.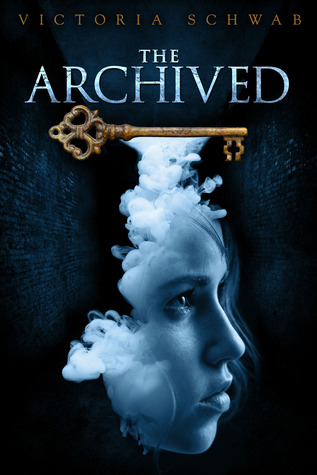 The Archived – Victoria Schwab
Genre – Young Adult/Fantasy
My Rating – ★★★★
Imagine a place where the dead rest on shelves like books.
Each body has a story to tell, a life seen in pictures that only Librarians can read. The dead are called Histories, and the vast realm in which they rest is the Archive.
Da first brought Mackenzie Bishop here four years ago, when she was twelve years old, frightened but determined to prove herself. Now Da is dead, and Mac has grown into what she once was, a ruthless Keeper, tasked with stopping often—violent Histories from waking up and getting out. Because of her job, she lies to the people she loves, and she knows fear for what it is: a useful tool for staying alive.
Being a Keeper isn't just dangerous—it's a constant reminder of those Mac has lost. Da's death was hard enough, but now her little brother is gone too. Mac starts to wonder about the boundary between living and dying, sleeping and waking. In the Archive, the dead must never be disturbed. And yet, someone is deliberately altering Histories, erasing essential chapters. Unless Mac can piece together what remains, the Archive itself might crumble and fall.
Review: When I first started reading The Archived, I felt extremely confused. I kept thinking Da was Mackenzie's father and had to go back to reread certain parts. There did seem to be a lot of information given to the reader at the beginning of the story to explain the world, but once it gets passed the first chapter or so, the story picks up. Even though the novel had a shaky start, I liked the world building. Everything felt as though it could exist. The story has a nice mystery theme throughout. Although the villains are predictable, it has likable characters and an engaging world.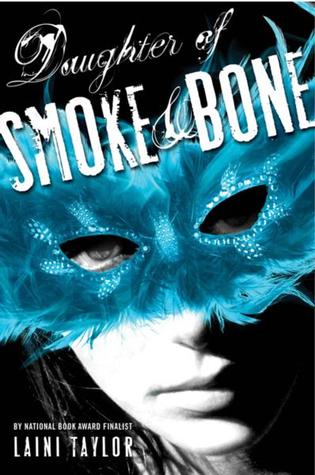 Daughter of Smoke & Bone – Laini Taylor
Genre – Young Adult/Fantasy
My Rating – ★★★★
Around the world, black handprints are appearing on doorways, scorched there by winged strangers who have crept through a slit in the sky.
In a dark and dusty shop, a devil's supply of human teeth grown dangerously low.
And in the tangled lanes of Prague, a young art student is about to be caught up in a brutal otherwordly war.
Meet Karou. She fills her sketchbooks with monsters that may or may not be real, she's prone to disappearing on mysterious "errands", she speaks many languages – not all of them human – and her bright blue hairactually grows out of her head that color. Who is she? That is the question that haunts her, and she's about to find out.
When beautiful, haunted Akiva fixes fiery eyes on her in an alley in Marrakesh, the result is blood and starlight, secrets unveiled, and a star-crossed love whose roots drink deep of a violent past. But will Karou live to regret learning the truth about herself?
Review: Daughter of Smoke & Bone is beautifully written. The story and the world are so well-crafted with some great characters. Each character has a distinct personality. It's easy to have characters blend together in some stories, but Taylor has a way of describing them that makes them stand out. They are unique and different from the rest. There is a large focus on the romance in the story with the two characters, mainly, pointing out that the other was very attractive. Near the end, when everything is being explained, the story was sort of sluggish, and I wished the unraveling was placed at a different part of the novel. However, it didn't take away from the story. I'm excited to read the next one.
Red Dragon – Thomas Harris
Genre – Horror
My Rating – ★★★★
In the realm of psychological suspense, Thomas Harris stands alone. Exploring both the nature of human evil and the nerve-racking anatomy of a forensic investigation, Harris unleashes a frightening vision of the dark side of our well-lighted world. In this extraordinary novel, which precededThe Silence of the Lambs and Hannibal, Harris introduced the unforgettable character Dr. Hannibal Lecter. And in it, Will Graham — the FBI man who hunted Lecter down — risks his sanity and his life to duel a killer called the … RED DRAGON.
Review: Red Dragon was a nice introduction to the Hannibal world. Even though Hannibal is barely in this novel, it's entertaining to read. The characters were realistic. There was a lot of characterization that really made the story. Although I didn't like Will's side of the story, getting inside his mind was cool, and I liked his meeting with Hannibal. I loved learning about the Red Dragon and his past. He was an interesting character, and it's possible to even feel sorry for him at some points in the novel. I enjoyed the writing style and the plot. I'm excited to read The Silence of the Lambs, and I want to learn more about Hannibal since readers only get a tease of him in this novel. I want to finish reading the books before I watch the movies, but the Red Dragon movie is getting harder to resist watching every day.
The Moth in the Mirror – A. G. Howard
Genre – Young Adult/Fantasy
My Rating – ★★★½
An original ebook-only novella in the Splintered series, told from the points of view of both Jeb and Morpheus. Morpheus wants to know more about his rival for Alyssa's affections, so he digs into Jeb's memories of his time in Wonderland. But he may be surprised by what he finds.
This brand-new story and perspective from A.G. Howard's dark, magical world stands alone, but also provides a tantalizing glimpse of what's to come in Unhinged, the sequel to Splintered.
Review: I'm glad I read this novella because it helped me understand Jeb better. Of course, he still isn't my favorite character (Team Morpheus!). I felt that this helped explain what Jeb thought of Alyssa and how he only wanted to protect her, instead of control her, which is how it seemed in the first book. I did wish there were more moments with Morpheus, but I will settle with what I got until I read the second book, Unhinged. I really need to buy Unhinged soon, so I can continue reading. Plus, I just found out it's going to be a trilogy!
The Broken – Shelley Coriell
Genre – Romance/Thriller
My Rating – ★★★
He took her life, but left her alive.
Three years ago, reporter Kate Johnson was the first victim—and only survivor—of the Broadcast Butcher. Scarred both physically and psychologically by the brutal serial killer, Kate lives life on the run, knowing that one day, he will find her and finish what he started.
In the pursuit of justice, you sometimes have to step outside the law.
Agent Hayden Reed spends his life chasing monsters. The only way to stay sane is to detach, but the second the Broadcast Butcher case crosses his desk, Hayden knows this is the case that might just cost him his soul. To catch this vicious murderer before he strikes again, Hayden must find Kate and earn her trust. For it's her darkest secrets that hold the key to stopping this madman once and for all . . .
Review: Full review for The Broken. The Broken was an entertaining read. The characters were likable and provided some great moments in the novel. There were some problems I had with the plot, but I did end up liking the overall story. The killer was not the best or most memorable, but the plot was enjoyable. I would recommend this book. I will most likely be picking up the second book The Buried because it tells Hatch's story. The synopsis sounds really interesting, and I'll get it when it's released later this year.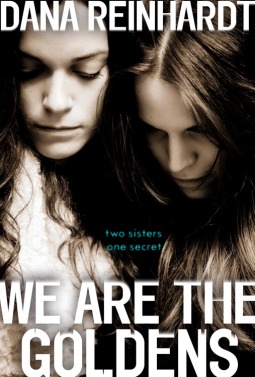 We Are the Goldens – Dana Reinhardt
Genre – Young Adult/Contemporary
My Rating – ★★★★
Nell knows a secret about her perfect, beautiful sister Layla. If she tells, it could blow their world apart.
When Nell and Layla were little, Nell used to call them Nellaya. Because to Nell, there was no difference between where she started and her adored big sister ended. They're a unit; divorce made them rely on each other early on, so when one pulls away, what is the other to do? But now, Nell's a freshman in high school and Layla is changing, secretive. And then Nell discovers why. Layla is involved with one of their teachers. And even though Nell tries to support Layla, to understand that she's happy and in love, Nell struggles with her true feelings: it's wrong, and she must do something about it.
Review: I'm planning on a having a full review of this up tomorrow. The writing style is different in We Are the Goldens. Nell is speaking directly to the reader as if she is talking to her sister Layla. Although I didn't fully understand the "obsession" with the older sister, I did appreciate Nell and Layla's relationship. Nell looked up to Layla, and Nell only wanted what was best for her sister. The characters are realistic and the plot is engaging. It makes you keep reading to find out what happens next. We Are the Goldens is still available on Netgalley, if anyone wants to read it before the publication date May 27th, 2014.
Red Bang – Brandt Monroe
Genre – Fiction
My Rating – ★★★★
Adam Murphy is a Hollywood screenwriter who has clearly lost his way. His wife, Jess, is a Los Angeles publicist who just lost her job. With the bills mounting and nowhere to turn in the City of Angels, Adam takes a chance on a complete life reboot – taking a job in Seattle at a billion-dollar, Fortune 500 technology behemoth and bringing his family along for the ride.
While working at The Company is a gloriously heady, benefit-laden playground for today's smartest minds, Adam quickly realizes he has descended into a foreign land where the language, customs and politics will either make him stronger or cause a meltdown of epic proportions. Faced with a 'win or fail' attitude, Adam must find a way to deliver an innovative new product, defeat his political nemesis, align with a mysterious Company founder, and save his wife from a weather-induced depression all before The Company finds out he has no idea what he's doing.
Inspired by the unbelievable things that go on behind closed doors of America's largest companies, and bolstered by a warm-hearted, humorous look at one family's fight against a Stepford-like culture, RED BANG will take you on a hilarious journey into the ridiculous hive mind of today's tech giants.
Review: Full review for Red Bang. Red Bang has relatable characters and takes place in a realistic world. I enjoyed watching Adam develop through the story. While the story is based off of real life companies and products, it refrains from being predictable and has a satisfying ending. If you're looking for an interesting story with lots of real-world references, you should definitely check out Red Bang. You won't be disappointed!
Casting Shadows Everywhere – L. T. Vargus
Genre – Young Adult/Thriller
My Rating – ★★★★
In his own words, 15 year old Jake is a "huge pussy." He flinches. Always. He's too timid to make a move on Beth, the buxom girl of his dreams, and too busy getting face-slammed into lockers by bullies to do much else. He seeks the guidance of the biggest badass he knows, his cousin Nick.
Nick is a professional burglar and makes Jake his apprentice. They stalk suburban neighborhoods night after night, ransacking houses for jewelry and sweet valuables. Nick teaches Jake the finer points of breaking and entering along with his dark philosophy – that there is no right or wrong in the world, just a series of events that happen without meaning.
At first, adopting Nick's callous worldview helps Jake get over his fears and confront his tormentors, but he also unleashes an aggression in himself he never thought possible. And as he learns more about his cousin, he realizes that Nick's crimes go way beyond burglary.
In the end, Jake must face not only the monster in his cousin but also the one in his own heart.
Review: I'm planning on doing a full review of this novel as well. Casting Shadows Everywhere really surprised me. I, honestly, was not expecting to like the story as much as I did. The novel is written like journal entries without dates. The main character Jake is writing about his experiences with his cousin Nick and his friend Beth. It is crude at times, and there is some strong language, but it adds to the realness of the story. I loved the ending, and I'm sure all of the twists will shock a lot of readers. I would recommend this to anyone that enjoys surprises and interesting characters within their stories.
Trapped – Michael Northrop
Genre – Young Adult/Survival
My Rating – ★
The day the blizzard started, no one knew that it was going to keep snowing for a week. That for those in its path, it would become not just a matter of keeping warm, but of staying alive. . . .
Scotty and his friends Pete and Jason are among the last seven kids at their high school waiting to get picked up that day, and they soon realize that no one is coming for them. Still, it doesn't seem so bad to spend the night at school, especially when distractingly hot Krista and Julie are sleeping just down the hall. But then the power goes out, then the heat. The pipes freeze, and the roof shudders. As the days add up, the snow piles higher, and the empty halls grow colder and darker, the mounting pressure forces a devastating decision. . . .
Review: This was such a disappointing story. Honestly, I didn't enjoy anything about Trapped. I wish I did because I was looking forward to a survival story, but it didn't impress me. The characters were flat and some were hard to distinguish from each other. A lot of unimportant events were talked about such as going to the bathroom. I don't need to know when and where the characters go to the bathroom. One explanation would have been fine, but it was discussed at a lot of different points in the story. Scotty even talks about his zit on more than one occasion. This mainly seemed to show that he was a teenager and had no other reason to be there. The novel had no surprises. Since Scotty says that not everyone survives at the beginning of the story, it's easy to tell who doesn't make it as soon as they are put in a life or death situation. The ending was unsatisfying, and it left so much unresolved. I normally can handle an ending with some unexplained events, but it felt as though some chapters were ripped out. It was a frustrating read, and I don't recommend it.
The Good, the Bad and the Ugly
Rating – R
My Rating – ★★★★★
A bounty hunting scam joins two men in an uneasy alliance against a third in a race to find a fortune in gold buried in a remote cemetery.
Review: What an amazing movie! I was surprised by how much I enjoyed this. While the movie was playing, I was trying to get some work done, but I ended up focusing all my attention on the film. It's a pretty long movie at 161 minutes, but it doesn't seem like it. No events drag on, and every scene has a purpose that adds to the story. All of the characters were fantastic and had great characterization. That ending! I was on the edge of my seat while the confrontation was happening. I was constantly asking Chad what was going to happen. Of course, he wouldn't tell me, so I was even more anxious. This was such a incredible movie, and I can't believe it has taken me this long to finally watch it. I would highly recommend this!
Planet of the Dinosaurs
Rating – PG
My Rating – ★★
A space-ship gets lost and is forced to make an emergency landing on an unknown planet. The planet looks much like Earth, only with no trace of civilization. Soon the crew discovers that there are dinosaurs on the planet, and blood-thirsty buggers at that. The crew hopes to be found and rescued, but they have to struggle to survive until then.
Review: Chad and I did a full review on Planet of the Dinosaurs. My review was especially silly because I felt it matched the movie. Planet of the Dinosaurs is far from a well-made movie, and it's quite terrible at some moments. If you do plan to watch it, just be aware that you will most likely laugh. A lot. It's one of those films where it's so bad, it's funny. Of course, it's unintentional, but we enjoyed ourselves while watching.
Cannonball Run II
Rating – PG
My Rating – ★★
The original characters from the first Cannonball movie race across the country once more in various cars and trucks.
Review: This was such a disappointing film. After loving The Cannonball Run, I was looking forward to the second installment. I'm used to sequels not being as good as the first, but this was not even close to the original. There were a ton more famous celebrities involved, and it took away from the story because everyone had to have a longer amount of time on screen. A lot of these characters were pointless and the scenes were even more pointless. It mostly felt like the creators were like "let's see how many famous people we can shove into one movie."  The plot was lacking and about half way through, it completely changed into something else. I know that it was probably just a movie for fun, but I would recommend The Cannonball Run for that. It's an entertaining movie while maintaining plot and characters. Overall, Cannonball Run II is worth skipping.
The Nut Job
Rating – PG
My Rating – ★★
An incorrigibly self-serving exiled squirrel finds himself helping his former park brethren raid a nut store to survive, that is also the front for a human gang's bank robbery.
Review: When I first saw advertisements for The Nut Job, I didn't have high hopes for it. However, I decided to give it a try. Sadly, it was not impressive. It's not a very unique story and the characters are generic. There is not much for an adult to enjoy, but I'm sure children will like it. It's a pretty straightforward plot and doesn't have too many surprises. There is supposed to be a sequel to this movie coming out in 2016, so some people must have enjoyed it.
The Hobbit: The Desolation of Smaug
Rating – PG-13
My Rating – ★★★★
The dwarves, along with Bilbo Baggins and Gandalf the Grey, continue their quest to reclaim Erebor, their homeland, from Smaug. Bilbo Baggins is in possession of a mysterious and magical ring.
Review: This sequel was quite entertaining. I really enjoyed getting to know the dwarves more, and I liked watching Bilbo grow as a character. It's full of action and fast-paced scenes. There were some moments where the plot dragged on but that will happen when you make three movies based off of one book. I'm looking forward to the third installment of The Hobbit that is supposed to come out in December of this year.
Top Secret!
Rating – PG
My Rating – ★★★★
Parody of WWII spy movies in which an American rock and roll singer becomes involved in a Resistance plot to rescue a scientist imprisoned in East Germany.
Review: I really enjoy parodies. Anything that pokes fun at something while also being witty and educated about the source material is always entertaining for me. Top Secret! was a fun movie. The movie combines spy movies and musicals that featured Elvis. Every scene is filled with something funny, and it's easy to find yourself laughing out loud during some. This was also Val Kilmer's first feature film so that's always interesting to know.
Airplane!
Rating – PG
My Rating – ★★★★
An airplane crew takes ill. Surely the only person capable of landing the plane is an ex-pilot afraid to fly. But don't call him Shirley.
Review: I figured since I watched Top Secret!, I might as well watch Airplane!. This is also a pretty hilarious parody movie directed by the same guys who directed Top Secret!. I enjoyed the random moments or the scenes where the character would look at the camera as if the character knows he/she is in a movie and goes along with it anyway. I would recommend this to anyone wanting to have a fun time while watching. Just don't eat the fish.